Description
Conceal is rebranding ConcealSearch to ConcealBrowseS! This will bring upon a few changes and this guide will outline the necessary steps to take as we move to the new infrastructure.
*You will see an option in the upper right corner to Download Extension. This is ConcealBrowse, our lightweight browser extension that protects your browser from malware and phishing attempts. This is not necessary for the migration, but you're free to use it and try it out! Reach out if you'd like more information or a demo of ConcealBrowse.
Procedure
Before you begin:
The dashboard is only used by admins to configure users and their capabilities. As a user role, upon accessing the dashboard you will see "No access to the dashboard", this is expected. You are still able to launch a session by clicking the Client tab under the Session section. Refer to the section Launching a Session


We will be migrating accounts over to our new infrastructure this week, throughout the week you will receive an email from support@conceal.io. This email will contain:
The new URL used to login to ConcealBrowseS
Your temporary password
Once you have logged in for the first time, you will be forced to change your password.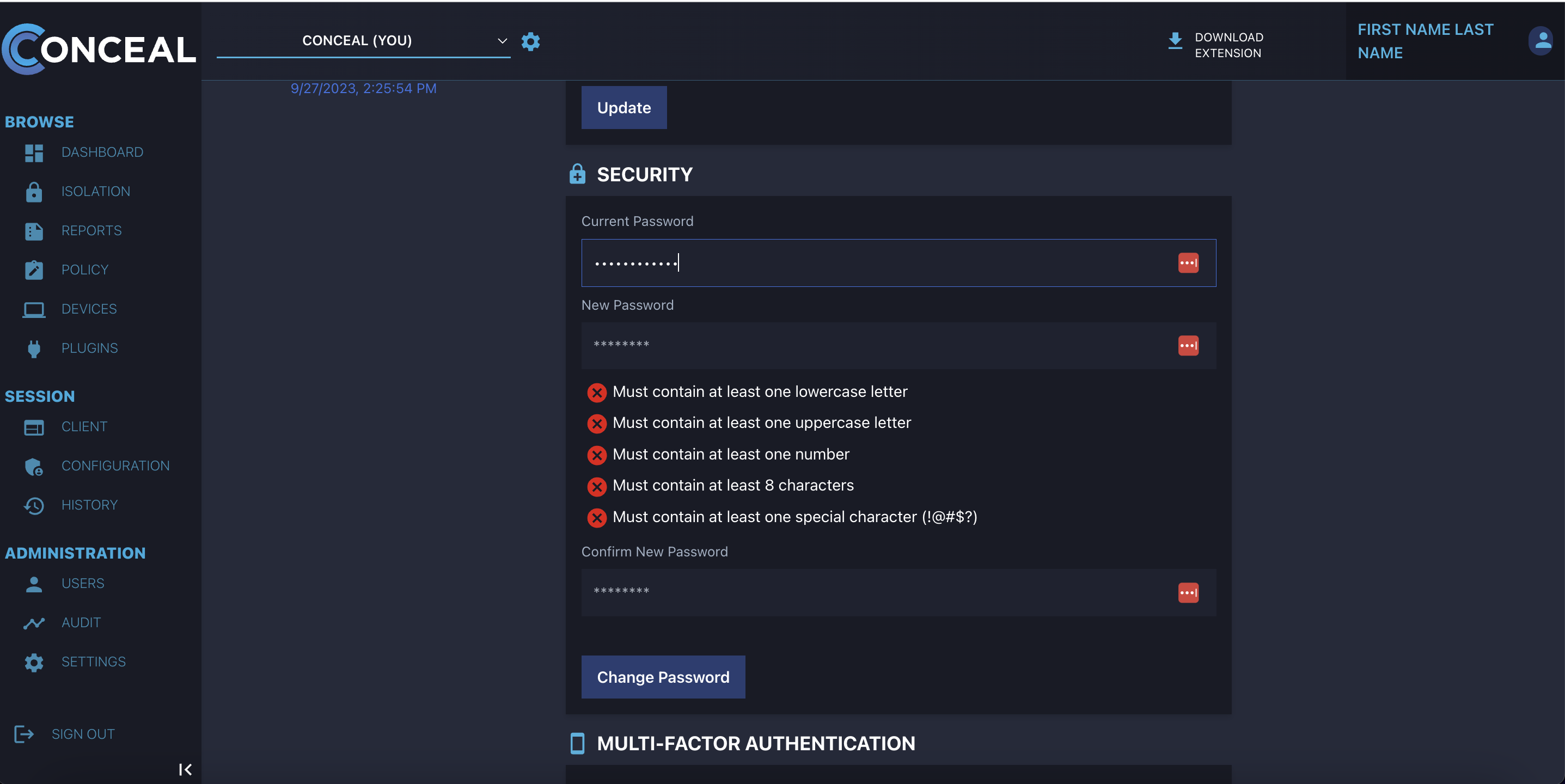 Launching a Session
Once you have reset your password, you can launch a new session from the same dashboard.

Under the Session section in the nav menu, click

Client

.



From here, you can Choose Session Egress node that you wis

h to use. Once you have selected your Egress from the dropdown menu, click

Start Session

. You will see a green banner that reads, "Starting Session" appear.





Once a session has started, you will see the name of the egress node, along with a

blue border surrounding the browser. This

indicates

you are in your isolated, protected browsing session.

To navigate to a website, enter a new URL in the address bar of the browser within the blue border. This is your protected session. If you change the URL away from

dashboard.conceal.io

you will navigate away from

ConcealBrowseS

and you will

not be in your protected session!

When you wish to close your session, click on the X in the upper right side of the browser.


You will be asked if you wish to Confirm or Close

. Click Confirm to end your session.


Configuration Tab
Your admin has the ability to set up how your sessions behave. Your setup can be viewed by selecting the Configuration arrow to expand that section.
Track History – when enabled, your browsing history within ConcealBrowseS sessions are recorded. You can view your history on your dashboard as well.
Save Cookies

– when enabled, your browsing sessions in ConcealBrowseS will store, and restore, cookie data.

Clipboard Policy

– when enabled, you will be able to copy and paste between your device and ConcealBrowseS sessions. If this is disabled, you will not have this capability. Other options are Paste to Isolation Blocked and Paste to Device Blocked.

Download Policy

– when enabled, you will be able to download files to your device from a ConcealBrowseS session. If this is disabled, downloads are not permitted.

Client Timeout

– displayed in minutes, your ConcealBrowseS session will timeout when this has elapsed. If this is set to 0, there is no timeout.
*Never hesitate to contact your Customer Success Manager for any questions or concerns. You may also open a support ticket at support.conceal.io by scrolling to the bottom and clicking Submit a request.
0
0
Was this article helpful?
0 out of 0 found this helpful