Question:
I see terms like "suspicious" and "proximity" when I'm being placed in isolation. What do these mean?
Answer:
When you're being place in isolation, ConcealBrowse tells you why we decided that site should be placed in isolation. Below will describe each of these in detail:
Example: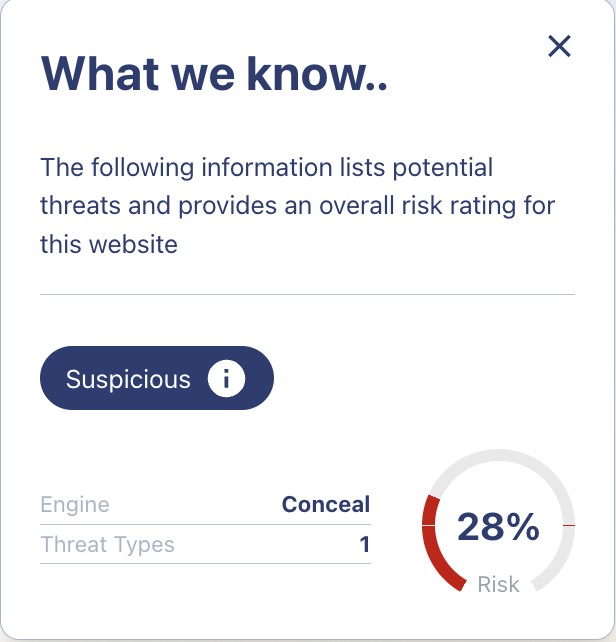 Proximity - Isolations due to proximity happen when the site in question is hosted on a server that hosts other sites known to be delivering malware or used in phishing attacks. This indicates that the site and/or server may be a target for threat actors and therefore at risk.


Suspicious - Suspicious sites show the Conceal detection engine different patterns of behavior associated with common indicators of compromise, There is a likelihood that the site in question is being used for malicious behavior.


Malicious - Sites that are known to be delivering malware such as ransomware, cryptominers, Trojans, etc. are tagged with Malicious by the ConcealBrowse engine and blocked. Sites that behave like those that deliver malware or display indicators of compromise send users into isolation.


Phishing - Users are protected against phishing in two ways. First, users are alerted that they are being sent to an isolated environment due to indicators that they are on a phishing site. Second, ConcealBrowse's computer vision prevents end-users from entering credentials into suspected phishing sites.
1
1
Was this article helpful?
1 out of 1 found this helpful